Page 7 - grupo_artenovum_sculptures
P. 7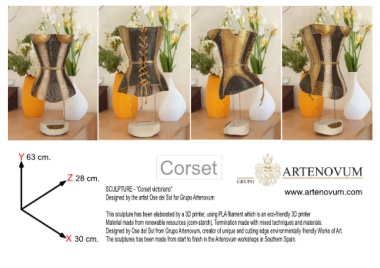 Y 63 cm.
                                                                        Corset



                               Z 28 cm.

                                                SCULPTURE - "Corset victoriano"                                                www.artenovum.com
                                                Designed by the artist Ose del Sol for Grupo Artenovum


                                                This sculpture has been elaborated by a 3D printer, using PLA filament which is an eco-friendly 3D printer
                                                Material made from renewable resources (corn-starch). Termination made with mixed techniques and materials.
                                                Designed by Ose del Sol from Grupo Artenovum, creator of unique and cutting edge environmentally friendly Works of Art.

                              X 30 cm. The sculptures has been made from start to finish in the Artenovum workshops in Southern Spain.